"We hire consultants for our bodies, consultants for our businesses, consultants for our diets. Now it's time to hire consultants for our families."
Hiring a consultant doesn't mean that you are "wrong" or "broken". It means that you are ready to take your family to the next level to create a healthy, happy dynamic. Sometimes patterns are so imbedded in your family that you may not see them. I will not only help you to see your familial patterns, but will help you to reframe your family dynamic into one that is positive, loving, and healthy for every memeber of your family.
Remember, it's not about "fixing" your family -- because your family and your children are not broken! It's about taking your family to the next level and helping you to create the best life for you and your children.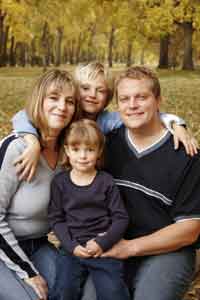 Family Consulting can help your family:
Learn about and get past dysfunctional patterns that lock your family up in turmoil.
Create new patterns that help every family member feel loved, validated, and important.
Eliminate chaos in your home and create an environment that is loving and peaceful.
Help your children learn how to communicate their feelings effectively so they no longer feel the need to act them out.
Pinpoint specific parenting patterns that are keeping you from being the best parent you know how to be.
Learn how to avoid the blow-ups and arguments that tear your family apart.
Look at how the foods you feed your children fuel their behavior and learn how to eat smart.
Help divorced and non-resident parents gain a sense of teamwork and learn how to work together to create the most loving, consistent environment for your children.
Learn how to support your spouse or partner in being the best parent he or she can possibly be.
Remember the joys and adventure of life and bring the fun back to your family!
Parenting consulting is helpful for any family, but it can be especially helpful for families whith single parents or families where one of the parents does not live in the home.
If you're ready to do what it takes to be happy and to learn techniques to enroll cooperation and to provide positive direction for your family, contact me at Shelly@ParentingKeys.com or call 503-989-2990 today.
Family Consulting Rates and Info
I charge $2500 per day for family consulting. Payment plans are available.
(Members of our email list pay only $2000 per day of consulting.)
Family Consulting Rates Include:
Home Visit
3 Hours of Telephone Follow-up, within the next year
Unlimited Email Follow-up (no time limit)
Free access to Shelly Walker workshops and seminars (no time limit)
Most consultations are one to two days long. If you are a two-parent home or if you are co-parenting with someone who does not live in your home, please know that I require every family member to be present -- all parents, step-parents and children and any other person living in the home.